Dual Sensor Pedestrian Warning System – for large vehicles

Do you want to reduce the risk of collision between pedestrians and large vehicles? Are you keen on people plant separation?
Bodyguard's Dual Sensor Pedestrian Warning System is an outstanding solution.
With the Dual Sensor system, you can ensure the risk of onsite injury is lowered significantly around large vehicles such as trucks, vibration rollers, graders and excavators.
How the Dual Sensor system works
The Dual Sensor system is made of FOUR components that interact with each other —
A personal tag – worn by pedestrians or placed on expensive property
TWO sensor units –attached to both the front and rear of the vehicle
A cab alert unit – which speaks to the driver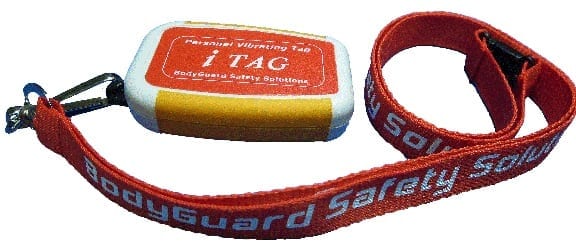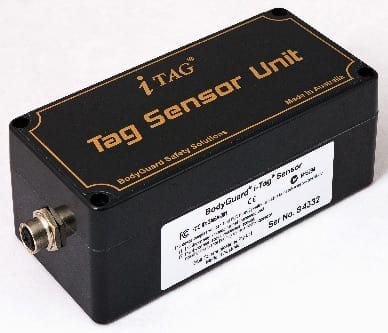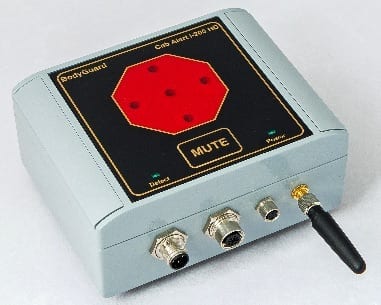 The four components will give your large vehicle drivers a chance to halt operation before hurting or even killing someone onsite.
They'll also help your business avoid:
Vehicle and plant repairs
Equipment and personnel downtime
Workplace accident investigations
Increased insurance premiums
The Dual Sensor system is easy to install
The Dual Sensor system is extremely easy to install. Both sensor and cab alert units are magnetic so there's no need to drill holes or screw anything in.
All you need to do is stick them on or pull them off your vehicles. The system is perfect for large vehicle rentals.
The Dual Sensor system is completely versatile
Personal tags are meant to be for pedestrians but they don't need to be limited to that.
These tags can be placed on ceiling, walls or any property of high value that you want to keep from being struck, damaged or destroyed.
The Dual Sensor system features a HUMAN VOICE
When pedestrians wearing personal tags get too close to either the front or rear of a vehicle, the large vehicle operator will be informed by the cab alert unit.
This unit sits right next to the vehicle operator.
What makes the system special is that the alert is in a human voice. "Look out! Person in front of you" or "Look Out! Person behind you".
Other alert systems' beeps get lost in the industrial din, but with a human voice you can be confident your drivers will hear these warnings.
It's these warnings that will keep your people and plant separate.
The Dual Sensor BodyGuard i-Tag is —
Made of FOUR components
Easy to install, easy to remove
Simple to use
Has a loud alert system in a human voice
Versatile – tags can be attached to walls and ceilings too, not just people
Will help your people avoid fatal collisions and site damage
Comes with FREE technical support.
Purchase or rent. Technical support is FREE.
Not sure about purchasing the Dual Sensor? You can rent it for a test run.
Whether you purchase or rent the Dual Sensor, technical support is FREE.
WANT A FREE CONSULTATION?
WANT A FREE CONSULTATION?
Our Clients
These are some of the companies that use the Bodyguard i-Tag for safety at work.
"We are happy with the BodyGuard i-Tag system fitted to our forklifts and telehandler loaders. "
Balco Australia, WA, Australia
"The System is extremely user friendly to install and very easy to use."
William Day Group, Ontario, Canada
"The BodyGuard i-Tag system is now being used in multiple sites in SA, QLD and WA to help lower risk between forklifts and personnel on the ground. "
BHP, Olympic Dam, SA Australia
"We are very happy with the performance of the system in general."
Super Retail Group, Forrestfield, WA, Australia
"We found the BodyGuard i-Tag system to be more user-friendly and comfortable to wear when performing duties out in the yard. "
MMA Offshore (Toll Mermaid), Freemantle, WA, Australia
"The BodyGuard i-Tag System is being used on our container ports for protecting loader Spotter being struck by the loader. "
J. Ray McDermott, Dubai, United Arab Emirates