BodyGuard's i-Tag Proximity Warning System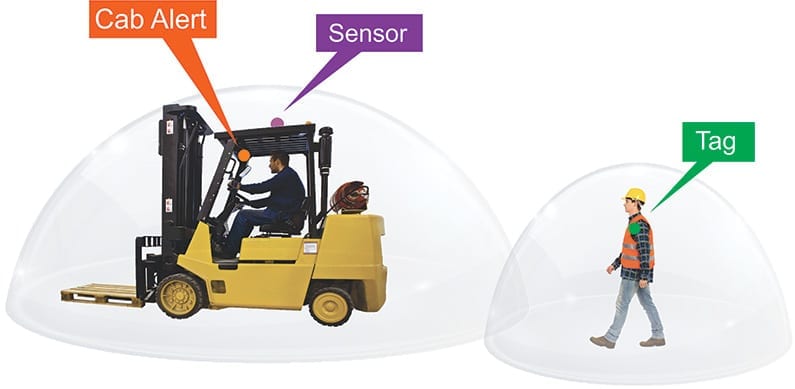 Our proximity warning system saves pedestrian workers lives.
The BodyGuard i-Tag Proximity Warning System is the perfect solution for reducing the risk of collision related accidents occurring on your work site. It can stop your vehicle operators and pedestrian staff from colliding into each other.
The system is made of three components which interact with each other —
A

personal tag

– worn by pedestrians

A

sensor unit

– attached to the vehicle

A

cab alert unit

– which speaks to the driver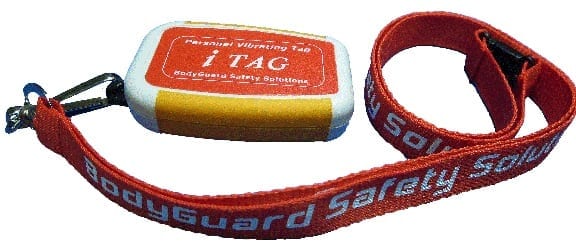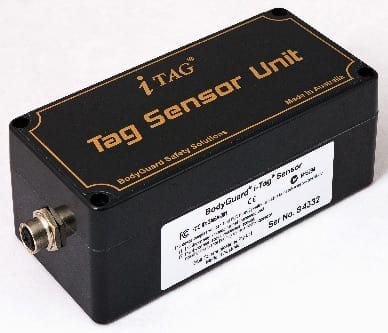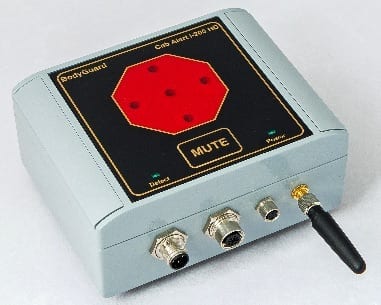 With the BodyGuard i-Tag Proximity Warning System you can reduce the risk of on-site collisions that can be hurtful to your workers and your business.
Avoid vehicle and plant repairs, equipment and personnel downtime, workplace accident investigations, increased insurance premiums and most importantly accidents that result in the injury or death of workers.
With confidence, you can manage risk of workplace hazards, promote a stronger safety culture and protect your people from harm.
A proximity warning system with a human voice
When a pedestrian wearing a personal tag gets too close to a vehicle, it is picked up by the vehicle's sensor unit and informs the driver via the cab alert unit (even through solid objects).
The cab alert unit warns the driver in a human voice (look out, person near you!) so you can be sure the driver will hear it and hit the brakes to avoid an accident.
This is unlike other beeping systems with alerts that get lost in the din of an industrial site.
Easy installation.
Both the cab alert unit and sensor unit components are magnetic. They're easy to install and simple to remove making them ideal for rented vehicles.(The systems are powered from the mobile plant and may require a maintenance person or auto electrician to make electrical connection, Leased vehicles may require permission from plant supplier)
Versatility.
The Proximity Warning System's personal tag can be placed anywhere. It's not limited to usage by employees. You can attach it to your ceilings, walls or any object of high value you want to protect from collision damage.
For example, if walls have just been constructed and you want to stop your forklift drivers reversing into them, you can attach personal tags to the wall. If the driver gets too close to the wall, they'll be alerted by the cab unit to stop.
Purchase or rent. You get technical support for FREE.
If you're interested in making your workplace safer, the i-Tag is the ideal system to use. We'd be happy to assess your worksite and provide an estimate for implementation. Consultation with us is FREE.
If you have any uncertainties about the BodyGuard i-Tag Proximity Warning System you can rent it from us first. We're happy for you to try it out before you purchase.
If you feel sure about the BodyGuard i-Tag, as BHP Billiton, Boral, Chevron, Rio Tinto, Cleanaway and many others already do, you can buy it outright.
You get FREE technical support, whether you rent or purchase.
The BodyGuard i-Tag is —
Made of three components

Easy to install, easy to remove

Simple to use

Has a loud alert system in a human voice

Versatile – tags can be attached to walls and ceilings too, not just people

Will help your people avoid fatal collisions and site damage

Comes with FREE technical support.
WANT A FREE CONSULTATION?
WANT A FREE CONSULTATION?
Our Clients
These are some of the companies that use the Bodyguard i-Tag for safety at work.
"We are happy with the BodyGuard i-Tag system fitted to our forklifts and telehandler loaders. "
Balco Australia, WA, Australia
"The System is extremely user friendly to install and very easy to use."
William Day Group, Ontario, Canada
"The BodyGuard i-Tag system is now being used in multiple sites in SA, QLD and WA to help lower risk between forklifts and personnel on the ground. "
BHP, Olympic Dam, SA Australia
"We are very happy with the performance of the system in general."
Super Retail Group, Forrestfield, WA, Australia
"We found the BodyGuard i-Tag system to be more user-friendly and comfortable to wear when performing duties out in the yard. "
MMA Offshore (Toll Mermaid), Freemantle, WA, Australia
"The BodyGuard i-Tag System is being used on our container ports for protecting loader Spotter being struck by the loader. "
J. Ray McDermott, Dubai, United Arab Emirates