The responsibilities of your safety officer reach far and wide.
The safety officer's job is to ensure:
Your work environment is safe
You are safe
And your company is legally compliant so it can continue operating.
Their overarching responsibility is to make sure you go home to your family and friends at the end of each day – without getting hurt. More importantly, they need to make sure you go home without feeling physically threatened by your work environment.
Want to know more about how your safety officer is meant to take care of you? Or do you feel uncertain about whether or not your safety officer is doing their job?
The following is a high-level guide to your safety officer's responsibilities and how they affect you.
Your safety officer creates and implements policies and programs to keep everyone safe
Solid safety policies and programs are integral to how safely your company or worksite is run. These are the rules by which your site operates – and the rules by which you must work.
Robust policies and programs see that safety challenges are managed consistently by every member of your organisation daily.
Everyone from upper management figureheads, down to the last mobile plant operator, should deal with safety challenges in a uniform manner.
To create and implement the right safety policies, your safety officer would have analysed quantitative and qualitative data collected from:
Site inspections
Investigations with staff
And previous reports.
Your safety officer would also have assessed the priorities of your business managers to create safety policies that work for your organisation and its workers.
If safety policies and programs have dated, your safety officer needs to place them under review and update them where required. This will ensure your company remains legally compliant while both you and your work environment are safe.
If policies and procedures are changed significantly across the board, your safety officer needs to run educational programs. These programs should see that everyone within your organisation is on the same page, safety wise.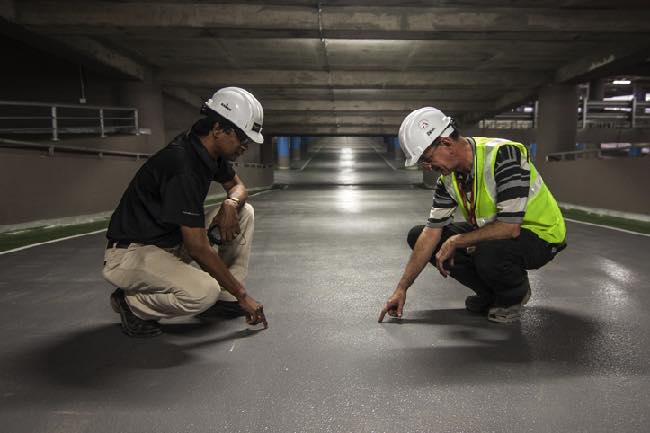 Your safety officer carries out regular inspections
To keep your work environment safe, your safety officer needs to run inspections on a regular basis. The inspections should be run at a frequency appropriate to your site and its various dangers.
A safety inspection may include walking through the site with a keen eye. Using a checklist to make sure they don't miss anything, they will analyse every aspect of the site that is a risk or poses risk.
If your safety officer observes danger or sees it coming around the corner, they need to record, report and take action to mitigate future risks.
If your worksite is constantly changing, it is also your safety officer's responsibility to update this checklist and check new items off during future inspections.
Your safety officer investigates concerns, complaints, accidents AND injuries
If you're ever worried about how work is conducted on-site or feel frustrated by an unsafe procedure, policy or practice, discuss your concerns with your safety officer.
Your safety officer's responsibility is to listen. They need to take your concerns on board, then investigate them at depth to qualify them.
After qualifying them, they need to do what's necessary to implement change. The process begins with meeting with upper management:
To report your complaints so they're aware of what's happening
To discuss the problems you've reported and how they should be resolved
To get their buy-in (if the challenge you've reported is potentially costly)
Afterwards, your safety officer will oversee the implementation of changes required for a safer work environment.
In the unfortunate situation an accident, injury or death has occurred, it is your safety officer's responsibility to find out what, why and how it happened.
Your safety officer will carry out inspections of your site and its equipment. They'll run in-depth interviews with the workers directly involved or workers who observed what happened.
They'll also prepare extensive documentation to build business cases to implement positive change within your organisation so no one else gets hurt.
Have you seen or suspect your people are getting too close to mobile plant?
In some cases, your safety officer may have assistants. The reality is, they're still but one person on your worksite. Your safety officer can't be everywhere at once to observe the safety hazards you need to deal with on a regular basis.
If you've seen a high frequency of near-misses between heavy vehicles and pedestrians or been involved in a near-collision event yourself, report to your safety officer immediately.
If your safety officer isn't sure how to remedy the problem, suggest the BodyGuard Pedestrian Safety Warning System.
Our system warns drivers when they're in danger of hitting pedestrians, giving them a chance to step on the brakes and save lives.
It also records any such events to generate reliable reports which your safety officer can use later to make positive change to your work environment.
With the BodyGuard Pedestrian Safety Warning System, you can feel confident your work environment is safer.
If your safety officer or you are interested in more information, give us a call on +61 (2) 4355 4554 or get in touch via our contact page.