As defined by the Work Health and Safety Regulation 2011, a mobile plant is any machine with some form of self-propulsion, usually under the direct control of an operator.
This includes earthmoving machinery (rollers, graders, scrapers, bobcats), excavators, cranes, hoists, elevating work platforms, concrete placement booms, reach stackers and forklifts.
Mobile plant are a major cause of severe injuries and death on worksites. They can:
Amputate limbs
Crush workers
Electrically shock workers
Cause fractures (when workers fall from plant)
Burn and more
Between 2009 and 2014, SafeWork NSW recorded over 2000 worker injuries and 10 deaths.
For us, these numbers are far too high.
Here are some of our top tips on how to maintain onsite mobile plant safety.
Implement and maintain mobile plant risk control measures
The risks that mobile plant come with will differ from plant to plant. Each and every worksite will pose their own unique risks and dangers.
For example, if a worker is operating a crane from the 50th storey of a construction site, one of the main dangers will be to fall.
If a worker is operating a forklift, a major danger is for the driver to crash into a fellow workmate.
As the business owner, safety officer or safety inspector, it's your job to determine what the risks are, what you need to do to mitigate risks and how soon you need to eliminate them.
One way to maintain plant safety is to ensure that all of your onsite workers are fully qualified and have the necessary training to operate mobile plant.
Some will need high risk work licenses in order to use certain industrial lift trucks and cranes.
Keep records of all onsite incidents, accidents or close calls. Analysing the data will show you where potential hazards are and which areas to keep your eye on.
Make sure mobile plant are safe to use
As the onsite safety officer or owner of your business it's your responsibility to ensure that your mobile plant are safe to use.
Before hiring or buying mobile plant, double or even triple check them to make sure they're in good working order.
When you implement the plant into your workplace, make sure to think about how the plant interacts with people, your site and your processes.
Make sure it doesn't disrupt the workflow of your site, people and other machinery.
Also make sure that your mobile plant are operated by your workers in a safe and by the book manner.
If you're someone who leases out mobile plant, make sure that you modify or retrofit the mobile plant to be as safe as it can possibly be.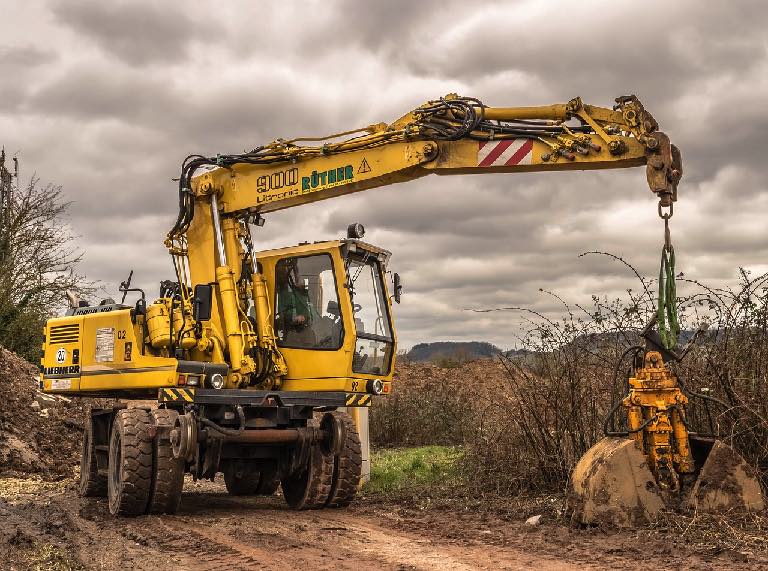 Keep mobile plant and people separated with pedestrian safety warning systems
As your workers are only human, you need to expect that they'll make mistakes. This means the risk of severe injury or death will always be present and shouldn't be ignored.
Pedestrians may simply forget to follow the rules, or deliberately not follow them.
Due to fatigue and inattention, mobile plant operators and pedestrians may misjudge distances or forget to check blind spots.
Sometimes, the presence of smoke, dust, water or poor lighting may put your people, both pedestrians and mobile plant operators, in dangerous positions.
If any of these situations take a turn for the worst, severe injuries or deaths could happen.
No matter how poor visibility is, how noisy the site is or how fatigued or inattentive workers are, pedestrian safety warning systems will work to keep these accidents from happening.
With our system, pedestrians wear tags that cause the mobile plant operators cab unit to sound off when they come within a specific radius.
The plant operator has a chance to stop operation of the plant before anything bad happens.
Keep your people safe with the i-Tag pedestrian safety warning system.
Need to ensure mobile plant safety?
If you need to keep mobile plant and people separated for safety's sake, the i-Tag pedestrian safety warning system is an outstanding solution.
It's trusted by BHP Billiton, Rio Tinto, Boral, Lendlease and Chevron to name just a few companies.
If you would like more information about it, get in touch with us via our contact page or give us a call on +61 (2) 4355 4554
Consultation is free of charge.